The story so far
Greener Footprints was founded in 2005 by Tracey Saxby and Anna Young over a glass of red wine. Their lofty ideas were inspired by the success of voluntary plastic-bag reduction in Australia, and they decided to start the same revolution in Canada.
Greener Footprints is a not-for-profit society, registered in British Columbia, Canada.
The people that make it happen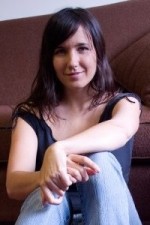 Tracey Saxby, Co-Founder & Director
Fed up with being a couch environmentalist, Tracey co-founded Greener Footprints in 2005. In March 2007, Tracey launched a very successful community education campaign in Rossland, BC, resulting in a 75% reduction in plastic bag use in less than one year. The campaign garnered local and national media attention, as well as a few awards. Based in Squamish in the summer and Rossland in the winter, Tracey divides her time between Greener Footprints and her work as an environmental education consultant. In this role, Tracey works with scientists from around the world to visually communicate science. Organizations she has worked with include the Great Barrier Reef Marine Park Authority, the US National Parks Service, the US Army Corps of Engineers, Conservation International, and the United Nations Environment Programme.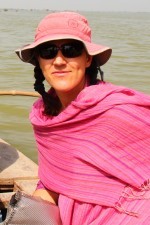 Anna Young, Co-Founder
Inspired by the success of the Australian example, Anna joined forces with Tracey to create Greener Footprints. While slightly unorthodox, Anna likes to think of her life as rich and varied.  Dividing her life between Tasmania, Australia and Revelstoke, BC her heart is enamored with both the mountains and the ocean.  Whilst in Revelstoke, she runs two small businesses: Stripes Gear which sells fun, stripey thermal underwear to the masses, and Red Telegraph which works with womens' cooperatives in the developing world. More recently, she has begun working for the United Nations World Food Programme. She has worked  in emergency response logistics and contingency planning in places such as Pakistan, Kyrgyzstan, and the Solomon Islands.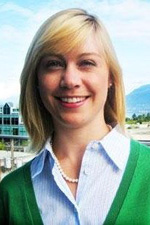 Caitlin Cooper, Chair
Upon returning to Vancouver from a year spent in Ottawa, Caitlin sought an opportunity to get involved in her community with a focus on environmental issues. A long held disdain for plastic bags led Caitlin to Greener Footprints Society where she became a Director in late 2011. By training, Caitlin is a Policy Analyst with a Master of Public Policy from Simon Fraser University, and her passion is to dig deep into problems facing society to identify their true source, and to identify potential ways of addressing them. Caitlin has lived in every major region in Canada and has travelled extensively around the world, giving her a broad understanding of Canadian and global issues. In her down time, Caitlin enjoys immersing herself in nature through activities such as sailing the beautiful waters of the Georgia Straight with her husband, hiking the Coastal Mountains with her two dogs, and enjoying the abundant winter snows as a nordic and alpine two-planker.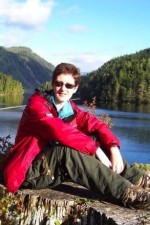 Amanda Adams, Secretary
An environmentalist and outdoor enthusiast who grew up on the open prairies Amanda has since migrated west to the majestic mountains and vibrant coast of B.C. With a B.Sc. in biology and a B.A. in anthropology she recognizes the complexity with which environmental and social issues are intertwined. Working on marine conservation at CPAWS-BC and sustainable seafood at SeaChoice, Amanda helps tie together environmentalists, activists, businesses, and local communities in addressing many of the pressing environmental issues we are faced with. Just as comfortable in a sleeping bag under the stars as in a bed under a roof (perhaps even more so),  Amanda is an avid nature enthusiast, drawing her energy and inspiration from connecting with nature: gardening, hiking, snowshoeing, camping, kayaking, getting out to explore the wilderness whenever she can.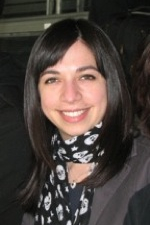 Adrienne Petersohn, Treasurer
Recently moving back to Vancouver after an 8-year stretch in Toronto, Adrienne is thrilled to return to her hometown to bask in the milder coastal climate. Not only has West-coast living enabled her to reconnect with massive Douglas-firs and muddy trail runs, but also her love for sushi, local skiing, and golf in December. Earning a few letters along the way (BA, MBA) her career focuses on marketing and advertising, with a penchant for sustainability. By specializing in business and the environment, she gained the right wrench and bolts to help explore the issues that have been tugging at her sleeve for so long.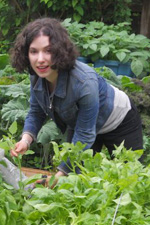 Rebecca Cuttler, Director
Rebecca is passionate about growing food and creating healthy communities. A certified Permaculture Designer, she is the author of urbaculture.ca, a blog about the practical and philosophical underpinnings of the urban sustainability movement. She has been featured twice in the Vancouver Sun regarding her work in the community gardening scene. Whether it be through befriending local farmers and fishers, designing an urban seed-saving curriculum for Simon Fraser University's Pocket Market, and selling her home-grown vegetables at Kitsilano's West Side Pocket Market, she is driven to meet as many change-makers as possible. Through her current work as an Executive Assistant at Renewal Partners, and through her past work as a member of the small team that helped to open SFU's new Woodward's campus, Rebecca is interested in learning about how businesses, artists and individuals can work together to create thriving communities.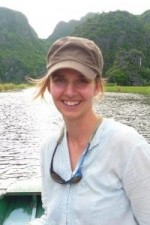 Jen Reilly, Past Chair
Jen has spent the last 15 years immersed in the tourism industry. While many of her friends like to think this means being a tourist, in fact, her experiences in tourism expand beyond personal travel. After completing an Adventure Travel Guide Diploma and Bachelor of Tourism Management from Thompson Rivers University, Jen owned and operated an adventure tourism company in Squamish, BC. She also earned a Master of Resource Management (Planning) from SFU. Now, Jen teaches in the Faculty of Tourism and Outdoor Recreation at Capilano University, and consults on various research and planning projects while she has time. She is involved with sustainability initiatives on the Capilano campus as well as other campuses across the province. Every day, Jen's young son reminds her that "We do not inherit the earth from our ancestors, we borrow it from our children." With this Native American proverb in mind, she tries to model thoughtful behaviour for him and his friends.
Johanna Stange, Director
Originally from Vancouver, Johanna currently works as Sustainability Officer at the Association of Credit Unions in the German province of North-Rhine Westphalia. In this role, she develops and encourages the uptake of sustainable financial products and services and promotes transparency through strategic communication with clients and the public. She holds an MSc in International Development Studies from the University of Utrecht in The Netherlands and a Bachelor of Environmental Studies from the University of Waterloo. Her background is in sustainable development and management consulting, with time spent in Ottawa at Five Winds. During her Masters of Science degree, she worked as a research intern at the Turkish Business Council for Sustainable Development in Istanbul where she conducted a study on the organic food retail sector. When spare time comes her way, Johanna enjoys dance, choir, and photography.